About Kinsley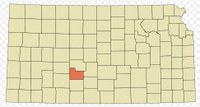 Geography
Kinsley is located in Edwards County, which is in the southwest part of Kansas.  It is 145 miles west of Wichita, 90 miles west of Hutchinson, 35 miles east of Dodge City, and it is connected by Highway 56 to the northeast with Great Bend.
Economy
Kinsley is known for its Carnival Heritage Center & Museum.  It is also known for its prominent 'Half Way Sign' marking 'Midway', the equidistant point between San Francisco and New York City.  Economic activities include a mix of service, retail, and agrarian interests.  The medium household income is around $38,000.
Census Information
As of the 2010 U.S. Census, there were 1,457 people, 654 households, and 384 families residing in the city.  The median age for a Kinsley resident was approximately 45 years, and the gender distribution was 52% female and 48% male.
History
For an excellent history, read the writeup prepared by the Kansas Historical Society.